The system documents the flow of sustainable bio-energy from the weight scale through the complete marketing chain, from the fields to the container, from the oil processing and producing of bio-petrol to the oil company or other end-users.
You have to comply with 3 requirements in order to acquire the certificate:
fulfilling the sustainability requirements throughout the producing of biomass
decreasing the release of greenhouse gases and performing its computational methodology
keeping trace of biomass, performing its computational methodology to be able to identify the origin of biomass
To ensure the above mentioned our company has normalized the following documents, which can be downloaded in case of crops purchased through the ISCC system:
ISCC grower's statement
grower's data sheet
questionnaire for risk appraisal
The ISCC registration number of Agrolog-Hungaria Ltd. is:
EU-ISCC-Cert-DE120-00130296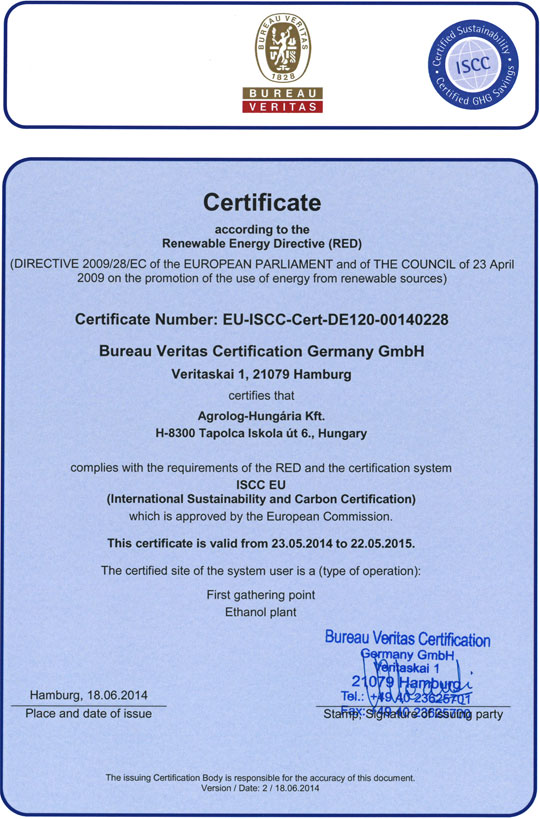 BÜHG Registration
Besides the ISCC system our company buys up crops through the BÜHG registration.
The base of this registration is the sustainability and biomass certification of NÉBIH. The grower, after harvesting, issues a biomass certificate until 31st July of the following year of harvest or in case of corn until 31st October. Only one biomass certificate may be issued for the same amount of biomass.
The BÜHG registration number of Agrolog-Hungaria Ltd. is: 1003907335